I'm David and this is Ido and we're earning our living from teaching piano through the internet. Sounds Amazing Right?
We'll be finishing our second degree in composition this year in the Jerusalem academy for Music and Dance and Piano-Play- It allows us to work at home, doing what we love in our own terms. What can we say; I guess we're the luckiest students in the world.
Today we can decide how much time we're going to devote to our families, and our art Since we work at home and here's the greatest thing... OUR ART IS OUR WORK!
It turns out that if one believes in his dreams, and he works hard for it he will have a great chance of making it happen with the help of SBI! This is not a magical potion, and nothing is hundred percent for sure, but if you're willing to make a change in your life and you need a tool that will take you step by step and give you a great advantage, well SBI! works.
So here's the story of two poor musicians, with no background in computers, who built this site based entirely on SiteSell knowledge which allows to work at home and pay our tuition, books, school supplies and rent without having to go into debt?
Back in January 2008 my life looked totally different. I just returned from the Netherlands to Israel after mastering the Jazz Piano Department in the Utrecht Conservatory for Music. During that time I worked as a piano teacher and played piano at the Holland Casino. I also performed around, singing and playing the piano, in many different occasions such as wedding, parties and festivals with my fellow musicians.
I was constantly busy with thinking of how I'm going to end the month that I didn't find the peace to create.

So when my I finished my first degree and returned to Israel I realized something had to change. I had to find a way to generate income year-round from my passion in a way that would free me from having to think about paying rent each month and be free to create my art at my own terms.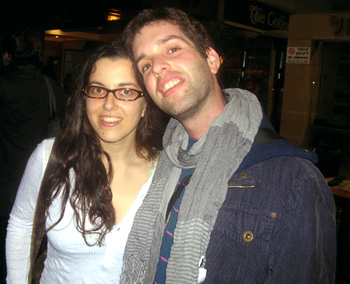 That's when my friend Tamar jumped in the picture.
Tamar and Elad her brother discovered SBI and made 6 SUCCESSFUL SITES with it.
They both work at home and earn thousands of dollars a month!

Working at home one her sites allows Tamar to live the life of an artist. Here's Tamar's artistic interpretation of how SBI! has set her free and changed her life. If you click on the video once it's uploaded you'll be directed to their fascinating story.
So when I told Tamar about my dilemmas she convinced me to make a site of my own. Now I was kind of skeptic at the beginning (Who wouldn't right?) but well, I already saw how they made it and they made BIG TIME! So having nothing to lose I went up that direction.
I started slowly... Tamar let me first read this e-book called Make Your Words Sell!
The book is co-written by Dr. Ken Evoy the founder of SBI. It is by far the very best book on writing (not just Netwriting but virtually any sort of marketing-oriented writing) I've ever read. Now I'm a slow reader but I finished its 300+ pages in two days or so.
Now, when I first thought about creating my site I was worried over my English. After all English is not my native language but Make Your Words Sell showed me that writing easy and simple is an advantage and that your passion goes beyond a few mistakes in English (Plus my English improved enormously in the past two years...)
This book is written in such a simple manner, and the way Ken writes makes you addicted to learning more and more. Suddenly you feel like a child again, going on an adventure. I often go back to the book and I never feel like I learned everything that's in it. I was amazed that such a book was offered for free... I made me think about what you get when you pay some money!
Accept from learning about the way internet works and realizing I could be a good writer I understood something which amazed me. I realized that building my own site would be based on giving something to the world. Here's my chance to provide the world with a great information that only I can share since it will be based on my own experience and passion. It was then when I first thought about teaching piano through the internet.
Now, I'm famous for being impulsive but Tamar forced me to relax. "Listen" she said "You're motivated and it's great but realize that you're building a business for life. We have to be sure you make the right choice."
And then Tamar introduced me to another great book called Make Your Site Sell! Which is considered by many to be the "bible" of selling on the Net (it's now also FREE as of January 2007). It covers every imaginable aspect of building a Web site that can really SELL. Again, written in Ken's down-to-earth chummy voice. It was also the perfect supplement to the first book read Make Your Words Sell!
At this point I felt like I'm aware of both the artistic and financial aspects that are important in building a website that would allow me to work at home and so I had to follow the Action Guide that helps you get a potentially profitable site up and running by following a ten chapter program.
I had no idea what my "money-making" site would be about, but after reading through the first two days, I understood that if I want to work at home I should choose a theme that was close to my heart to make this happen.
Both my heart and my head shouted "Piano, Piano, Piano!" but I had to hold myself since Tamar made me promise I won't decide what my site's theme would be about before I checked at least five options like the action guide recommends and make sure that it's not only close to my heart but profitable as well.
We came up with some great ideas. I love dogs, I love dancing, I thought about making a site about kid's adoption (Since I'm thinking about it for a while now) and teaching piano of course.
Site Build It! (SBI!) sells itself as an all-in-one site-building, site-hosting, site-promoting suite of these tools. With the help of Site Build It!'s powerful tools, I was able to measure the demand and supply for these different themes' related information on the Net and it turned out that there was a lot out there for most of the subjects in relationship with how people demanded knowledge about these subject.
So I entered the word "piano" and was astonished to see how many words were out there with high value demand and low supply which could keep me writing about them forever.
I sent the results to Tamar and waited impatiently for her reply. Here's what she wrote: "Wow, unbelievable... There is so much for you to say about the piano and the world eagers to hear about what you have to say! Now you have to buy the SBI! It's only $300 dollars. I know it seems like a lot but remember it will really pay off so don't panic."
Don't panic... my god, I was just back from Israel with no money in my pocket (and in my bank account) and where would I get this money from? But I wanted to work at home so badly that I decided I'll ask Tamar more about SBI!
What's "Site Build It!?"
Well, Site Build It! is much more than a "sitebuilder". Site Build It! encompasses all the knowledge and all the tools needed to understand the Internet and succeed online. For someone like myself who had no Internet knowledge but dreamt of the internet's freedom, Site Build It! was the perfect place to set out. All the tools in one place. All the methods and knowledge in one place.

Not everyone has the patience or capability to seek and sift out bits and pieces from all over the Net. And with so many scams and scammers out there, I was eager to find my "anchor". That's what SBI! is for me. An anchor. A trusted mechanic who won't dupe me, so to speak. To me, that's priceless, and all that I've learned about building a successful online business, I've learned from Site Build It! and its creator and visionary, the well-known Dr. Ken Evoy.

I was already hooked up on the idea of having my own site but since I was so careful about my pennies Tamar suggested I'll call Elad, her brother. Now let me tell you something... Elad is this guy you meet once in a life time. He has a great talent for talking you into something and that's why he's site do so amazingly well.
Elad told me that in order to change my life I have to invest; Time and money. "No easy solutions out there as you know". I don't believe in the getting rich in one week programs and since SBI! were so honest with me the whole time through I decided I have to go for it.

Elad knows how to tell stories. Through SBI! he fulfilled his dream and became a professional story teller. Here's a short video where he talks about his love for SBI! with Dilbert one of his famous charecters.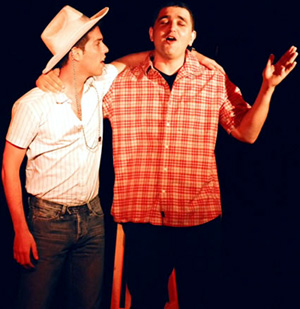 And here's Dilbert and me on Elad's show... Elad called me up to the stage in one of his performance and we had a great moment together. I actually stole his cowboy hat :)
Dilbert, what can I say... I'm your biggest fan!
I can't forget the day when I payed and became a part of Site Build It! I was excited and worried at the same time. I couldn't believe I took such a chance but let me tell you something... This was a turning point in my life. My dream to work at home was closer to reality.
SBI! helped me learn everything there is to know about choosing the right subject for my site, and learning how to technically make Piano-Play-It happen. Now, I'm was clueless about the technical aspect of site building but since you can build a site through simple building blocks and monitor every aspect of traffic through a consolidated control center it was easy to make this happen for real.
That's how I became the piano junkie you learned or will learn to know, Ido and I are creating free piano lessons for more the 2500 students a day for two years now! So instead of teaching one student an hour at his place, we work at home and like... mmmm... well, I'll let you do the math.
Ido joined in after a few months when I realized there was so much to do for my stutdents that I needed a partner. Ido is a great piano player and a fantastic teacher. We studied at the Music Academy of Jerusalem together and I convinced him to join me. How lucky I was for that friendship and his professional partnership. If you have played one of Ido's free piano arrangements you know what I'm talking about. He's so talented in the piano business that this site would have never been half as good without him.
Now Ido has two kids and a lovely wife. At first he was suspicious about me and my crazy dreams but as we started to grow together he realized that this could really be his chance to quit his day job in the Israeli phone company where he works, work at home and dedicate more time to work at home and see his children growing. He's now closer to doing so then ever.
Let's talk business, if we provide Free Piano Lessons, how do we earn money?
Here are the main two ways our site makes money which allows us to work at home:
1. Ads, such as Google Ads - We earn money when people click on an ad that appears on our site.
2. Affiliate Marketing - We provide content and make suggestions as to where to buy quality products. If a visitor clicks over from our site to our affiliate (partner merchant) we earn a commission (while the customer doesn't pay even a penny more for the product.) Fair enough. I won't get into the details of affiliate internet marketing because it's all explained here...
The principle is simple. We rank high in the search engines for keywords that are in high demand (since we provide high quality info) and that way generate lots of traffic to our site and lots of clicks on the ads and click-throughs to our affiliates.
This is what allows us to work at home and live up to our dreams. To sum up our stories...