Beginning Piano Lessons: How To Help Us Help You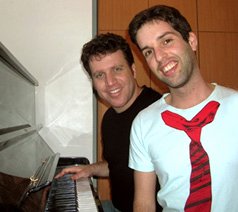 Hi, This is David here with Ido next to me, and you probably know me from all the beginning piano lessons I created. You probably also played some of Ido's free piano sheets.
Yep, Piano-Play-It is an operation of two people only. People think there are a dozen writers behind this site but in reality it's just the two of us!
"So if you feel Piano-Play-It.com helped you, inspired you or added just a little something to your life, please consider helping us help YOU. Buy us a cup of coffee - just click on the coffee cup below:
$2
or

You can buy us a whole pot of coffee for $5 so we stay up all night to come up with new beginning piano lessons and other great stuff. Just click on the coffee pot and you'll have us bouncing off the walls!

$5



Thank You So Much For the coffee!
People We Had Coffee with (Not to Mention a whole meal...)
Brigitte Konoppa
Annelen Janssen
Juan Carlos Santamarina de
Taylor Martin
Irene Herz
Victor Haugen
Michelle Doddy


From the depths of my heart thank you soooo much for your website.
Jaber Y.Y. from the Bahrain

Hi David....... I'm wrapt to be subscribing, am only just starting to learn and it is just WONDERFUL to find a site like yours! Thanks a million!
Sandy O. from New Zealand

Hi, David and Ido
Thanks again for this wonderful work of yours. I've been learning here for 3 months now, and it's great ! I keep on improving day by day, although I'm 37 and I started from zero.
Roberto R. from Spain

David, you are an enjoying person to watch. I like your style and you entertain me-- thanks! I play guitar and piano and I'd like to thank you for the "Killing Me Softly" tutorial you did. Keep it up and bless you, good man.
Eddie T. from the United States

I wanted to tell you, that even though I purchased "Rocket Piano" and I use that as my main guidance for my piano studies, I wouldn't be able to understand everything properly without your amazing video tutorials.
The time and dedication you put into them is really incredible.
It's not easy to understand all the subtleties that go into piano playing from their written text (and their videos are rather skimpy and short), but your tutorials make everything seem so much easier than it really is and give me the motivation to keep going.


Thanks again, and keep up the great work you do!
Ron F. from the United States
If you feel you want to give us more for our beginning piano lessons you can donate an amount that is entirely up to you. (Every little bit helps a little bit.)
Return from Beginning Piano Lessons to Homepage
How To Play Piano by Chords
THE FAST AND EASY WAY TO LEARN PIANO!
The Ultimate Piano by Chords Learning Kit
Check It Out Now!






"Your entire site is simply fantastic. I really loved it. Now I am learning the basics of piano by myself, with your really great help. Thank you very much!"
Jaime C. from Brazil
---
"I only started to play about six weeks ago but the last hour of watching your videos about chord progressions has been something of a revelation. You're brilliant!!!!"
Stephen Roberts from U.S.A
---
"I'm a beginning keyboard player and your video's are an excellent guide. You're absolute not in a hurry, and take time to explain. I'm sure I'll follow all your lessons to get the hang of playing the piano/keyboard!"
Wouter E. from the Netherlands
---
"Thanks for all your work ( tuto and others ). You're doing a really great job, You're the best internet teacher I know."
Anthony Hassen Cohen from France
---