How to Read Piano Notes - Free Beginner Piano Lessons
Home »Piano Notes
In this page I offer different kinds of piano lessons on reading notes. I'll first introduce you to the instrument, then we're going to learn to orient ourselves on the piano. Finally we're going to be learning the play the piano and while reading piano notes on the staff.
This is how I'm teaching piano with these beginning piano lessons; you're going to be learning to play the piano based on reading a written content and videos which are added to each and every beginning piano lesson. (We're in the process...)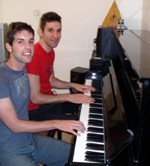 What's so great about the piano notes lessons is that once you've learned a certain subject I'll direct you to free piano sheets the cover this subject so you'll be learning to play the piano efficiently.
Return from Read Piano Notes to Home Page