Piano Forum - FAQS About Piano Issues
Home » Piano Forum - FAQs
I've been mailed so many questions about all piano issues that I decided to create a Piano FAQs page so people can find answers quickly and easily.
But this will be an interactive page too where questions that are not featured here can be posted by visitors.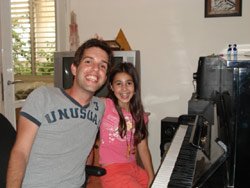 AND if any of you have answers to any of the questions listed here, you can post them as well! That's exactly what this piano forum going about.
So any Piano experts out there have an opportunity to share their wisdom in this piano forum with Piano lovers looking for help to questions they may not have been able to find anywhere else.
Below the Piano FAQs list of questions and answers you'll find the really easy to fill out form where you can post your questions and/or answers on the piano forum.
So, without further ado, let's get started!
---
"I'm so greatful for having this forum
where you get your answers in details!"
Piano FAQs - My Most Frequently Asked Questions
Question: When is best for a child to start playing the piano?
Answer: Some methods teach children in age four but I'm not a big fan of that.
I accept children at the age of seven since I find them developed enough to understand the feeling of a form in music (To hear the beginning and the ending of a piece...)
and to hear the difference between the different tones. At the age of seven you're already familiar with the letters as well and your mind is more set to learn a new language.
Yet, some children are so eager to learn and you should never hold them for trying. There are suprises along the way and it's nice to be surprised.
Question: Is there a point to start playing the piano as an adult?
Answer: Absolutely. It is never to late to start playing the piano. Half of my students are adults and we have a great time together.
I guarantee you that adult can achieve great results if they just believe they can.
Actually this doubt many adults have is the main reason they give up before even trying.
There are actually also a few advantages of being an adult.
Your will is stronger and you're aware of what your soul is going to benefit from learning to play the piano
So forget this thought. It's nonsense!
Question: I want to start playing the piano but I'm not sure whether I'm going to stick to it. Should I buy a piano or go for a simple keyboard to begin with?
Answer: Well, I cover this issue fully in the piano vs. keyboard page.
If I have to say it shortly I'd say.. If you can buy yourself a good piano and benefit from the beauty, the sound and the presence of this instrument at your home.
However if you just lack the budget and/or space you can find a really nice electric piano in a very reasonable price until you're more certain.
Know just one thing. The sound of a keyboard, any keyboard will never come close to the pure sound of an acoustic piano.
Question: We're about to move to our new place and we're doubting whether we should move our piano on our own or rent a professional. What do you thing?
Answer: I'll say that without any doubt. HIRE A PROFFESIONAL!
There are so many reason why you shouldn't move a piano on your own. Here's an article which will help you to make up your mind.
Question: who Invented the piano?
Answer: I could write a whole page about this subject. Wait a minute... I did!
Here's an article that will introduce you to Bartolomeo Cristofori (di Francesco) of Padua. He's the one who made the first instrument that could produce big differences in the dynamics of his pianos and so his piano was named the forte piano.
Question: How many lessons do I have to follow before I can really play the piano?
Answer: I never know what exactly to answer to that question. What's a good playing? When are you really playing?
But I can say the you can learn to play piano by chords starting from your first lesson already. It depends on how you're studying and who with.
Reading piano sheet music takes time. Think of it. You didn't learn to read english in one day right?
But people with a musical ear can learn to play the piano nicely in just a few lessons.
If you're serious though and you want to learn piano technique and some piano theory that will help you to understand the dipper meaning of the music you're playing relax... Take you time and enjoy the process.
---
Add your Piano FAQ to the Piano Forum or a Helpful Answer - Hey, it's Easy!
Above I attempted to list some of my most frequently asked piano questions. Below you will find the easy to fill out form where you can post your question or give us a helpful answer to any of the Piano FAQs listed.
I hope you will be eager to contribute as this will be a most helpful piano forum to Piano Lovers around the world.
As well as to me because I am always looking to learn more about anything which has to do with the piano. Your questions and answers will serve to broaden my expertise.
So come on... got a Piano FAQs you want to get answered? This piano forum is the place to do it.
---
Questions and Answers by other piano lovers
Click below to see what other piano lovers contributed to this page...

Return from Piano Forum / FAQs to Homepage