The Half Rest
Home » Piano Notes » Half Rest
A musical rest that equals a half note looks like this: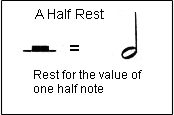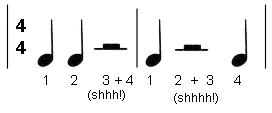 Now let's read and clap musical patterns with these musical rests.
This time try to read and clap according to the pattern first, and check out the answer to see if you clapped correctly.
The half notes are very important in the next musical piece. They're part of the nature of this piece called Little Night Music by Mozart.
Try to play it and cound 1.. 2.. 3.. 4...
To sum up this subject, here are two musical pieces with half rests.
Tod the Frog Download
Clap Yout Hands Download
Now we only have to discuss the whole rest before we finish talking about musical rests.
Return from Half Rest to Piano Notes Page