The Harmonic Minor Scale
Home » Piano Theory » Harmonic Minor Scale
In order to understand the nature of the harmonic minor scale we have to look back for a moment.
Remember what we said about the leading tone? How it pointed us toward home like a magnet? (If this sounds unfamiliar to you click here to read about the leading tone in the major scale).
Well, in the natural minor scale the situation is different. The seventh note needs to go through a distance of a whole tone toward the root note of the scale instead of a half tone as in the major scale and that's why it is not as powerful as in the major scale.
When the seventh note is a whole step below below the root note (Tonic) it is called a subtonic.
In order to increase the effect of the leading tone the seventh tone was raised in half a tone to create this magnetic effect toward the root note and that is how the harmonic minor was born.
Here is an example of A harmonic minor.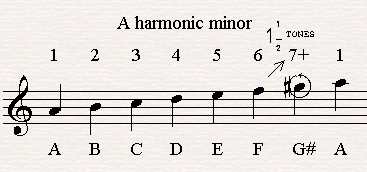 But if you play the A minor in its harmonic version you'll realize that the gap of one tone and a half between the sixth note (F) and the leading tone (G#) sound fishy. The distance is so big that it's getting hard to accept the connection between these two notes in the scale.
For that reason this scale is mostly used for harmonic reasons. It's melodic function is limited to the part in the piece where the tension needs to be solved and to relaxation. That's the root note home or the root chord.
Here is a list of all minor harmonic scales.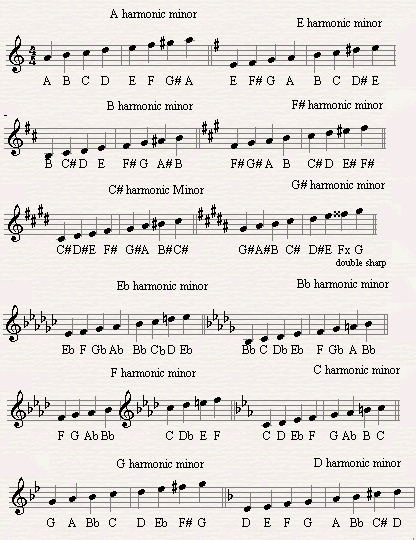 Here's a printable version of all these scales.
Click here to learn how the gap between the sixth note and the seventh note was solved.
Return from Harmonic Minor Scale to Piano Theory.