Should I Enforce my Child to play piano?
Home » Piano Info » Should I Enforce my Child to play piano?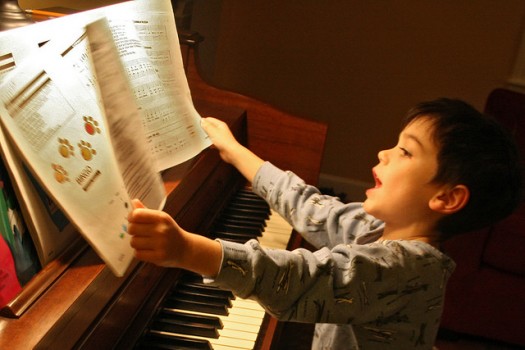 I am often asked by parents of children who are learning how to play the piano if it helps to force their children to practice.
I found this issue challenging and interesting so I decided to share with you my thoughts about it.

I'm trying to remember if I was ever forced to practice - maybe I played under pressure from my parents for a couple of months but I was not happy, it did not help to inspire me and to choose to sit by the piano on my own initiative.

So the big question is not how to force my child to practice but how to understand the difficulties he may encounter and to encourage him.

No one likes to be told what to do. We all love it when we choose to sit out of our own free will. Otherwise we can react to demand in two ways that are not effective in the long run for our well-being... The first one is to rebel the demand and the other on is to give in to it. In both ways we are feeling aggressiveness in us that won't help us to connect to the piano.

So what's the alternative? Well, to begin with I suggest that each parent will check why he wants his child to play the piano? Is it because he regrets he didn't do it on his own when the time was right? In that case I suggest you leave your child to be and go get some piano lesson because right now is the RIGHT TIME for you!

Don't throw your dreams on your child. Show them you go for your own dreams and that will encourage your child to follow his own dreams. There's nothing like a serving as a good example of daring to dream and follow your inspiration.

Have you ever asked your child what he feels inspired to do? What he dreams about?
Accept from helping your child to express his or her dream it is also a very inspiring subject to the parent who might find their children can teach them a thing or two.

But what if your child is dreaming about playing the piano but won't sit to practice?

Then I suggest having a wonderful conversation (Which you could also have with yourself)
and check out what is it that preventing the child from practicing?
Maybe he's tired after a long day at school?
Maybe he just didn't understand what he's supposed to do at the piano lesson and find it too challenging to sit and practice?

Maybe he doesn't like learning how to read the music notes?
I have a GREAT solution for this issue!

CLICK HERE for the solution >>

Maybe he would just like to play a different kind of music that will inspire him or her more?
And maybe there's not a good connection with the teacher so the child doesn't find a place to
enjoy playing and to feel inspired by the teacher.

So there are really many reasons and the best advice is to not judge the child and to figure out with him or her what's going on inside of them. It is even more challenging to not judge ourselves and to listen without prejudice.

Once you encourage the child to say what he NEEDS in order to practice (Like what kind of music, maybe the location of the piano doesn't give a quite space to practice) You can ask you child if has an IDEA on what would inspire him or her to practice.

What we often do is offer solutions but I have discovered that by asking the child what he thinks as the solution is far more useful and you'll be amazed by their brilliant ideas.

When he or she offer the solution they find the motivation inside themselves.
We are just helping them out to discover what is alive in them and stops them from fulfilling what THEY are driven to do in life.

So to sum up, I hope you all find a place that is full of responsibility and self-trust, and I hope we will all be able to help each other understand what we feel, what we need and how we can take step forward in order to come to self-fulfillment out of our own free will!

Piano-by-Numbers is a GREAT solution for your child if he doesn't like reading piano notes.

CLICK HERE for the solution >>


Love
David
From piano-play-it.com