How to Play Sixteenth Notes on Piano
Home » Piano Notes » Sixteenth Notes
We're going to play piano pieces with a new rhythmic unit in the next lesson.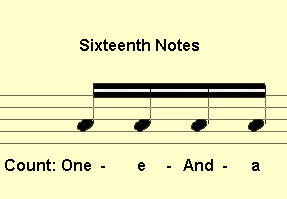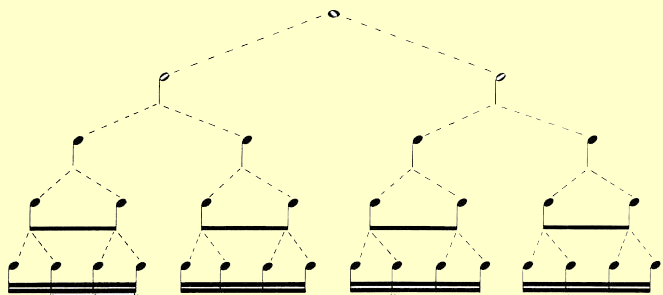 When we first started reading piano notes we talked about the tone lengths of a whole note (Which lasts 4 counts),
the half note (lasts two counts),
the quarter note (lasts one count)
and the eighth note (There are two eighth notes in a quarter note).
Do you see where the wind blows? Rhythm is divided in multiples of two's.
So take en eighth note, divide it to two and you'll get two equal sixteenths.
In other words There are four sixteenths in a quarter note

Sixteenth notes appear singly, in pairs (Completed to a quarter note by an eighth), or tied together in group of four's.
If an eighth note had one flag on its stem the sixteenths get two stems.
Counting Sixteenths
Here's a useful way to count sixteenths effectively.
Let's say we're at the beginning of a bar and we have a group of four sixteenths.
The first sixteenth will be named as "one".
You count one at the beginning of each quarter note as well right?
The third sixteenth would be "And"
When we play two eighth notes we say One-And, Two And, and so on...
The third sixteenth is equal to the beginning of the second eighth note.
The second sixteenth and the fourth will be "e"and "a" respectively.
All together we say One-e-And-a.
Earlier in this piano course, when we talked about the eighth notes I mentioned that we always count a music piece according to its shortest tone length.
That means that if a piece has sixteenths in it we'll count "One-e" or "And-a" when we see an eighth note and a whole note would be "One-e-And-a"
The Sixteenth Rest

You'll se how sixteenth rests are combined with sixteenths in the rhythmic patterns below.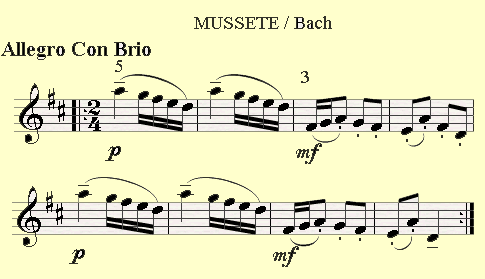 To conclude here's a famous musical piece with typical sixteenths.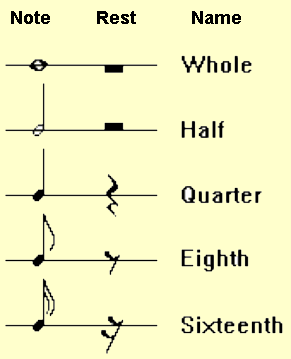 To sum up this issue, let's see a quick review of the different tone lenghths and musical rests which we covered until today.
You'll find some great musical pieces with sixteenth notes here below, but check out these great easy top hits books from Ebay before.
You are now ready to read lots of great music. It will take some time until you get handy in reading so I think that starting with these easy top hits books is a great idea.
| | | |
| --- | --- | --- |
| Piece Name | PDF File | MP3 File |
| The-Bumblebee | Download | Your browser does not support the audio element. |
| Ten Little Indians | Download | Your browser does not support the audio element. |
| Can Can by Offenbach | Download | Your browser does not support the audio element. |
| Mussete by Bach | Download | Your browser does not support the audio element. |
We're going to learn about different tempo marks which show us how fast or slow we have to play in the next piano lesson.
Return from Sixteenth notes to Piano Notes.