Yamaha Digital Piano
Home » Buy Piano » Yamaha Digital Piano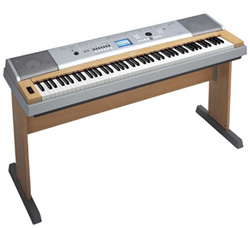 Yamaha dominates the world of digital pianos. Although there are other excellent brands such as Roland, Casio etc.
it seems that the empire of Yamaha is unbeatable.
Musicians all over the world prefer to play and perform with the Yamaha outstanding instruments.
Here are the main advantages of the Yamaha digital pianos:
Reputation - The Yamaha company produces musical instruments for over than 100 years. They were always pioneers in their field and will probably continue in this spirit in the coming years.
Yamaha digital pianos are durable, they don't break down easily. (I have an old Yamaha keyboard which still works after 25 years!).
Touch - The Yamaha piano engineers have developed keyboards that react similarly to acoustic pianos. Yamaha has a special patent - the Graded Hammer Action: it means that the keys are gradually heavier top to bottom, and by that you gain the same touch as a real piano.
Sound - Yamaha has labs in which engineers sample the sounds of acoustic pianos and apply them into their digital pianos.
Yamaha produces acoustic pianos - One of the reasons that Yamaha is such a good brand in digital pianos is that they are one of the rare manufacturers that produce both acoustic and digital pianos. Their piano engineers know how a real piano should sound, and how a real piano keyboard should feel.
Yamaha has so many models of digital pianos. How do you choose the one that will fit you?
Touch and feel - I advise you to try various instruments in order to feel the keyboard and find the one that you prefer. Try playing on acoustic pianos as well in order to compare between real pianos and digital ones.
Play and listen - Play and listen to various digital pianos. Choose the one with the most beautiful sound.
Need a Portable Keyboard? Need a portable keyboard? Are you working as a musician? are you often jamming with friends?
Well in this case you should probably look for a handy and portable keyboard. Bottom line?
make sure it is as lighter as possible. You don't wanna go for a heavy keyboard (blinded by all its possibilites)
and find out you're going to sweat while trying to get it out of your house (And belive me,
I own a motief 8x (Yeah, the one you can see in my piano tutorials) by Yamaha and while trying to take it to a gig it didn't even fit in my CAR :)!
Other features - Does it have a USB connection? Does it have a convenient display screen? Sounds bank? Pitch bend? Etc. There are many features in digital pianos. Some of them may be crucial for your needs and some of them may be unnecessary. Don't waste your money on features that you will probably never use.
Price - After you have verified your exact needs you can check the prices of the various digital pianos. If you're looking for a good bargain here is a great store with low prices and a good service.
Reviews - Read reviews of people who bought one of the models which you are interested in. It is always good to hear different opinions.
Here are some of the models of Yamaha digital pianos. You can have more information by clicking on the different models. (Coming Soon)
The YDP series:
Yamaha YDP131C digital piano
Yamaha YDP323 digital piano
Yamaha YDP113 digital piano.
The P series:
Yamaha P-60 digital piano.
Yamaha P-65 digital piano.
Yamaha P-70 digital piano.
Yamaha P-80 digital piano.
Yamaha P-85 digital piano.
Yamaha P-90 digital piano.
Yamaha P-120 digital piano.
Yamaha P-250 digital piano.
Yamaha P-200 digital piano.
Other models of Yamaha digital pianos:
Yamaha CP-1.

Yamaha NP-30.
Yamaha PF-500.
Yamaha PF-1000.
Return from Yamaha Digital Piano to Buy a Piano