All Out Of Love - A Piano Tutorial for beginners!
Home » Piano Tutorials » All Out Of Love (Piano Tutorial)
This pop ballad by Air Supply was released in 1980. It reached number 2 in the US and number 11 in the UK.
The song is considered to be one of the Greatest Love songs, placing 92nd in VH1's list of the 100 Greatest Love Songs.
Those of use who like such sweet song deserve to play it and sing their heart out so there we go. In this piano tutorial I'm focusing on playing arpeggios. Playing the notes of a chord consecutively (harp style). A broken chord in which the individual notes are sounded one after the other instead of simultaneously.
You can replace the order of the notes when you play the arpeggios or create a different rhythm that you prefer.
I really encourage you to experiment with different patterns.
A tip from me: The most successful patterns are those who encourage the drive of the song.
The one I suggested for example plays sixteen's on the first beat. the last last one is a Syncopation.
What I did was Deliberately upsetting the meter or pulse of a composition by temporary shifting of the accent to a weak beat or an off-beat.
Click here if you haven't signed to Piano Playground, our free E-zine yet make sure you do that in order to get the username and password codes for the free piano tab I provide here under.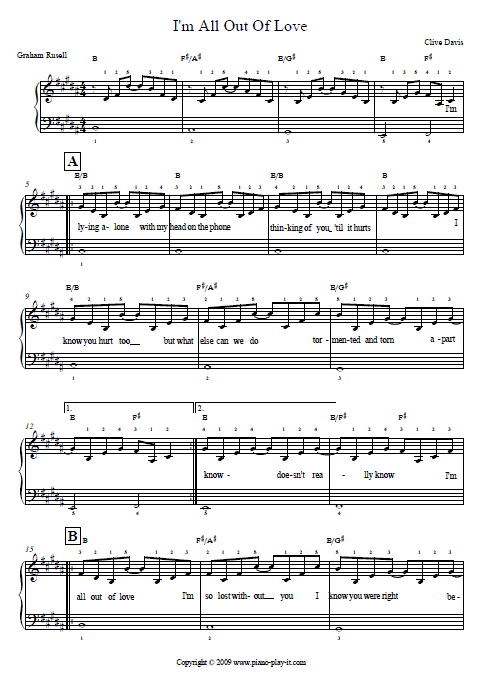 Here's a free piano sheet of the song All out of love arranged exactly way I played it in the piano tutorial.