How to Play a C Major Chord On The Piano
Home » Piano Chords » How to Play a C Major chord on the Piano
In order to form a C major chord, let's have a look at the white keys of the piano.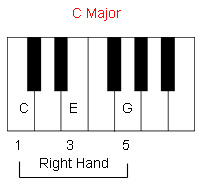 Put your right hand on the C position.
Press with you first finger on Middle C, skip a note (and a finger) and press with your third finger on E, skip a note (and a finger) again and then press on G with your fifth finger.
The combination of these three notes gives us a chord called "C major" (C-E-G). These major chords are often interpreted as happy chords or optimistic if you'd like. Yet some sad pieces start with a major chord.
Listen to the sound of it. Do you feel the joy? :)
The sound is open.

What's "Major" in C Major?
Well this brings us to the theoretical level.
The distance between the first note of the chord and the third note (C and E) is 2 tones. This interval is called a Major Third.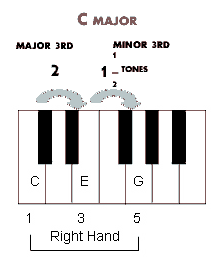 The C major chord is named after that important interval which defines him as a Major Chord. The distance between the second note of the chord and third note (E and G) is 1 and a half tone which is an interval of a Minor third.
To conclude, one can say that C major is built out of a Major third and a Minor Third.
When we'd like state a major chord all we have to do is write its root note in a big letter. C major for example would be plain C. No other chord symbol is needed.
Question
O.k., so now that you know how C major sounds like and how to form it in the theoretical level try to find the G major chord in the same way. Click here to see if you got the G chord right.