Forming a G Chord on the Piano
Home » Piano Chords » G Chord
We already covered two out of three chords that belong to the same family in the previous lessons ( Click here to go to the C major chord piano lesson if you need a reminder.)
And by now it should be much easier for you to find the third chord; The G major Chord.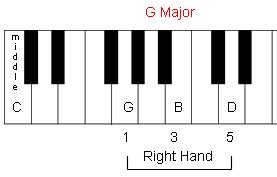 In order to find the G chord, All you had to do was placing your rights' hand first finger on G, skip the A note and press on B with your third finger, then skip the C note and press on the D with your fifth finger;
Just like we did with the C major chord and F major.
Since we only focused on the white keys we can say that all the three chords we've learn came from the same area.
Theoretically speaking everything that applies for the C major chord and F major applies to the G chord.
The interval between G and B (2 tones) creates a major third and the intervals between B and D (1 1/2 tones) creates a minor third.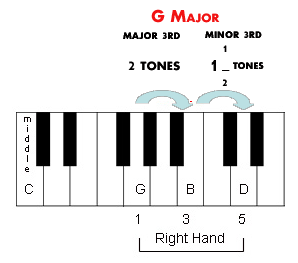 I hope I gave you the tools to find the rest of the major chords.
We're going to discover new major chords in the future but for now let's move on something exciting and completely new.
Let's learn to play our very first song. In the next piano lesson I'm going to show you what to do with your right hand and left hand when you accompany a song.
When we're done we'll get to our first piano tutorial.
If you're only interested in learning about piano chords try to find the E chord. The answer lies in the next piano lesson...
Return from G Chord on the Piano to Piano Chords.