The Correct Posture for Piano Playing
Home » Piano Technique » Correct Posture
How come keeping the correct piano playing posture is so important? And why is so important to find a suitable piano bench? Where can you actually find good piano benches?
I've added the correct playing posture at this point of our piano lessons since sitting correctly at the piano has a few advantages.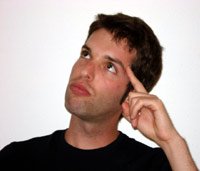 1. Having the correct posture helps us preventing our body from damage and stress that might occur while sitting through these long hours, practicing.
2. It allows us to produce continuous power and flow while we play.
3. It helps us to play with a greater sensitivity.
Remember to always pay attention to the correct posture while playing the piano!
Here below you'll find a recommendation of my favourite piano bench (Because it is so comfortable!).
The Ten Commandments for the Piano Playing Correct Posture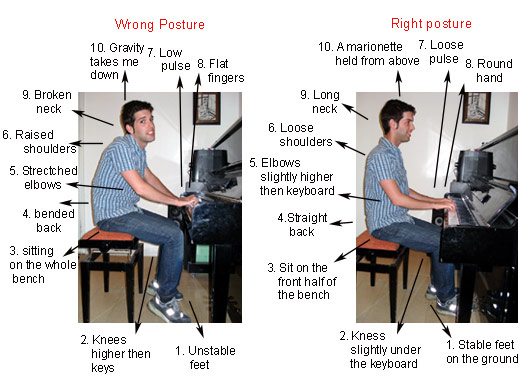 1. always keep your feet flat on the ground. Your feet are the first station to stability.
Make sure that your feet are not too far or close from each other.
Your feet should support the stability of your body.
2. Make sure your knees are placed slightly under the keyboard. The angle of the legs should be a bit more the 90 degrees. Remember... the correct posture is all about keeping your body rounded. That's how we create a continuous motion and power. A too narrow or wide angle means you have to change the height of your piano bench /stool.
3. Sit on the front half of the chair.
We do that to be able to lean forward and backwards when needed. The bench must face the keyboard squarely.
If you don't have a piano chair you should definitely get one. It's important to feel comfortable while playing and to have a chair that fits the flexibility your body requires while playing the piano.
Some chair are slanted for example or they have a back rest. These cases both will probably lead to have the wrong piano playing posture.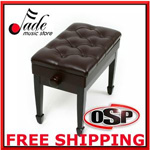 Sitting on a comfortable piano bench is not something you want to take lightly. After all sitting comfortably and properly means you're playing well. When you'll buy the OSP artist piano bench
you'll discover this piano bench is manufactured to exacting standards and is a quality product at an amazing price. It insures that the you'll be seated at the proper height to maintain the correct hand position. Artist benches are used by concert pianists around the world for this exact reason.
4. Keep your back straight. Don't stretch it too much however. You'll know that your back is over stretched when your buttocks won't fully lean on your seat. When we play piano we produce power not only from our fingers but also from the whole arm weight and all the way back to our shoulders. Try to keep that energy in one line.
5. Place your elbows a bit higher then the keyboard and in a comfortable distance from the body. Placing your elbows too close to your body means that you're sitting too close to the piano.
6. Loose you shoulders. Make sure they stay that way even when you play something you find difficult. Some people tend to raise them up as a reaction to tension.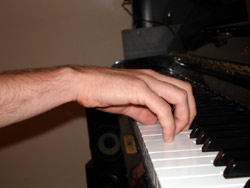 7. Make sure your pulse is a bit higher then the arm line. It should always be loose. Ask once a friend to throw your hand from the piano when you play and if it will fly away easily it means you're doing well at keeping your wrist loose.
8. Keep the palm of your hand curved as if you hold an apple. Play only with the tip of your fingers and don't break them. Keep the energy flowing through the whole arm.
Make sure you keep the bridge of your hand round. (See pictures)
A TIP: If you sit and put your hands on your knees and then lift it up to the keyboard you're already having a round hand with the perfect angle.
9. Make sure your neck is long and that your head is straight. Some people tend to stretch their neck forward what causes pain. This could also be sign for having bad eyes. If you have glasses remember to wear it so you won't have to stress your eyes.
10. Imagine you're a marionette held from above by an imaginary string. The movement of the marionette is light and so should we feel. It helps to think about it when keeping the correct posture.
In order to make these Ten Commandments a part of you, I suggest you practice the correct posture exercise everyday for five minutes for a while until you feel comfortable with it.
E.D EXERCISES
E.D. is the initials for Every-Day exercises.
It is best to practice them through the first five minutes of your practice, when you're fully concentrated and need a warm-up. This next exercise will focus on keeping the piano playing correct posture.
Place your right hand on the C position.
Press on the C key with your first finger, and then lift it up while you press on D with the second finger . Ascend all the way to G and descend back to C.
Think of your posture. Are your feet placed stable on the ground?
Is your hand round? Do you feel pressure somewhere?
If you do, it's a sign that you're not working correctly.
Make sure you're breathing while doing the exercise.
WORK SLOWLY! Give yourself some time to get familiar with your body posture.
Treat it as meditation. Think of the small details. Become aware. Keep working on this exercises five minutes a day and keep practising consistently.