Michael Jackson New Song - This Is It (Piano Tutorial)
Home » Piano Tutorials » Michael Jackson New Song - This Is IT (Piano Tutorial)
Man, this came out of no where! When I heard this Michael Jackson new song I was so happy. and such a great song as well.
What's even more wonderful is that this song is quite easy so everyone can play it on the piano in like half an hour.
So enjoy this piano tutorial and let me know what you think about it...
Click here if you haven't signed to Piano Playground, our free E-zine yet make sure you do that in order to get the username and password codes for the free piano tab I provide here under.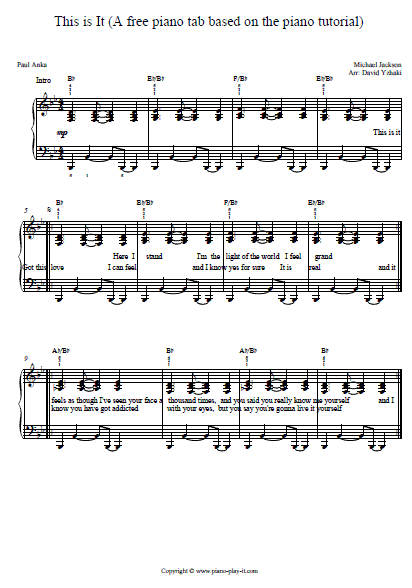 Here's a free piano tab of the song This is It by Michael Jackson as played in this piano tutorial.
I never heard a single word about you
Falling in love wasn't my plan
I never thought that I would be your lover
Return from Michael Jackson New Song This Is It Piano Tutorial to Piano Tutorials