Music Rhythm - A Free Piano Lesson
Home » Read Piano Notes » Music Rhythm
Reading piano notes is the key to broaden your horizons and getting to know worlds you never thought existed. In order to read piano notes you must get familiar with the meaning of musical beats. Let's start from the basics!
The Musical Beats
When playing piano we play the piano keys and by doing so we create different tone lengths.
Piano notes are basically musical signs that tell us which key we have to play and how long we have to play it.
In order to measure the different tones we count beats. It's the same as using a meter for measuring your height.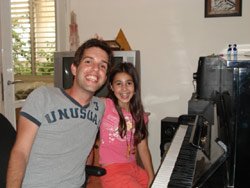 Just like your heart, music is beating. Your heart never stops. You don't pay attention to it but you always know it's there, beating. Same goes for music with one exception.
The distance between the beats is longer in slow pieces then in fast pieces but unlike the heart that beats faster when we're excited the beats in music are always equal to each other
The beats are divided to groups by bar lines. The first beat after the bar line is the most heavy and important one. The bar line help us to divide the groups to (fours or threes for example) instead of counting endless number of beats. Every group is called a a MEASURE. This information will help you to learn to play the piano rhythmically.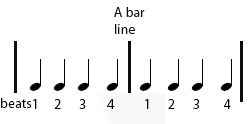 In this example, every measure includes a group of four beats. Every note gets one count. 1.. 2.. 3.. 4..
Tone Lenghts
A Quarter Note

When you see a quarter note it means you have to count one beat per note. A quarter note has a stem and a circle painted black.
A Half Note
This is a half note. We count two beats per note when we see this note. Unlike the quarter note the circle of the half notes remains white.


A Whole Note
Last but no least is the whole note, and maybe you've guessed that we count four beats per note when we see it. The whole note has no stem. It's Just a white circle.


Now that we've learned the basics of the music rhythm signs. let's see how the song "Merrily we roll along" looks like when we write it with piano notes.
The Music Rhythm in MERRILY WE ROLL ALONG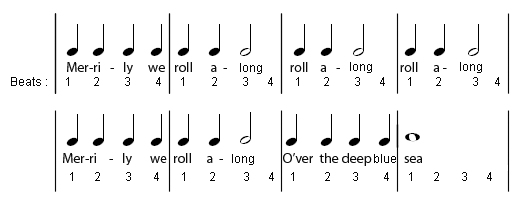 Try to play the song on the piano as we played it before and this time count the beats according to the tone lengths of the notes.
See how you have to count 3...4... When a half note is located at the second half of the measure? (It's still worth 2 counts).
O.k., so now that we learned how basic music rhythm works, and we saw an example of it, let's experience some other music rhythm examples.
Read Piano notes- Play and Count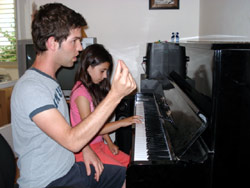 Read the piano notes and play according to the next music rhythm pattern.
Do as follow...
1. Click on the link above
2. Point the metronome to 72 Bpm (Beats per Minute). It's a good pace to start with. Place your thumb on the C note, read the piano notes and play the exercise according to the beat.
3. Play again and this time count aloud.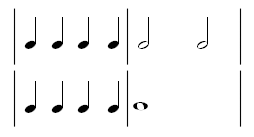 Here is how it should be done.
Click on the audio file. (The first four beats are left empty to indicate the speed of the rhythm).
Here are two more patterns for you.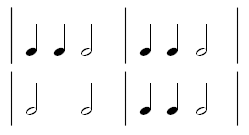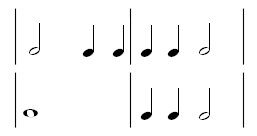 Did you make it?
Well done my friend, we're definitely on our way to make you a music rhythmic beast.
The Time Signature
In the beginning of musical pieces you will see numbers. These numbers are called the time signature. The time signature tells us how many beats we have to count per measure and how long a beat lasts. Remember to always first take a look at the time signature. It will save you a lot of time with figuring what you have to play and how to play it.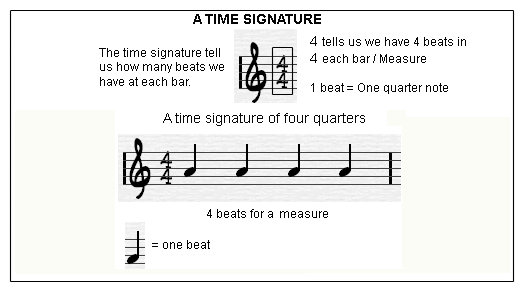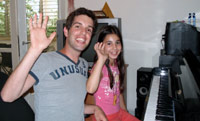 Now, if you're serious in turning into a real piano player you should remember that playing rhytmically is one of the most important things that will make you a great player. The only problem is that when we learn to play the piano we have to take care of various elements at the same time. We have to remember the piano key names, then read piano notes and learn to read piano notes on the staff and disinguish between the different tone lengths.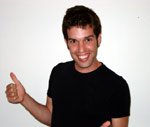 If you want to learn more about reading piano notes you should definately check out the Rocket Piano Ultimate Learning kit. Rocket Piano provide an amazingly handy and effecive piano course on various issues such as reading piano notes, playing piano by chords, piano technique and more.
You're going to love the way they work systemically with the help of their useful audio and video files that are short and to the point. By working with Rocket Piano you basically guarantee that you'll become pro at reading piano notes (And the big bonus is you'll learn to play piano by ear as well).
Check out the Ultimate Piano Learning Kit of Rocket Piano Now!