Palace Pianos
by Jay Mallory
(France)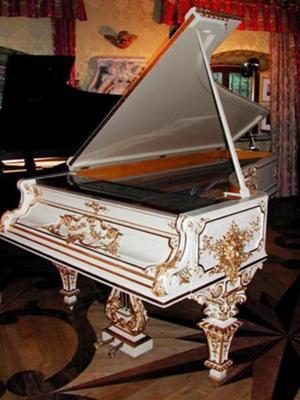 Palace Pianos
site of rare and unique Pianos, Early pianoforte, harps! http://www.palacepianos.com
Return to Submit Your Piano Picture / Info Here.
Learn from our Courses
Complete courses we offer: Solo, Accompaniment, Blues and Impro, Theory Course including songs from your favorite artists!
The Ultimate Piano by Chords Learning Kit
Check It Out Now!






"Your entire site is simply fantastic. I really loved it. Now I am learning the basics of piano by myself, with your really great help. Thank you very much!"
Jaime C. from Brazil
---
"I only started to play about six weeks ago but the last hour of watching your videos about chord progressions has been something of a revelation. You're brilliant!!!!"
Stephen Roberts from U.S.A
---
"I'm a beginning keyboard player and your video's are an excellent guide. You're absolute not in a hurry, and take time to explain. I'm sure I'll follow all your lessons to get the hang of playing the piano/keyboard!"
Wouter E. from the Netherlands
---
"Thanks for all your work ( tuto and others ). You're doing a really great job, You're the best internet teacher I know."
Anthony Hassen Cohen from France
---