Piano Chord Chart
Home » Piano Chords » Piano Chord Chart
In order to help you learning to play the piano chords of the major and minor chords correctly I added this useful chord chart to the beginning piano lessons.
Click here if you haven't signed to Piano Playground, our free E-zine yet make sure you do that in order to get the username and password codes for the free chord chart I provide here under.

Click here to download a printable version of the Major Chord Chart.
Here's a useful exercise...What I suggest is that you choose a key on the piano (Gradually you'd like to find the major chord of every chosen key) and look for its major chord. Trust your ear. Don't be too logical about music since it won't get you to having a musical intuition on the long run.
If you think you got the major chord correctly check it here in the piano chord chart to see if you're right!
Good luck!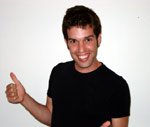 Now that you know how to play the major chords in the root position there's still a lot to do. You should learn to play chord in the correct chord inversion and then face the biggest problem which is trying to play a song smoothly and to be able to remember all the chord shapes and switch between the different chords fast. The complete process of learning to play piano by chords could be achieved much faster with the help of the Rocket Piano Learning Kit that will help you to train your fingers to automatically remember all the chord shapes, in 1/3 the time!
You'll learn all about how your brain processes information, and how to maximise your piano practice time... (nine out of ten people are absolutely floored by this secret!). Click here to check out the Rocket Piano Learning Kit Now!
Before we continue I'd look you to pay attention to something in this piano chord chart. Look at C# major. You may be wondering why its middle note is stated as E# and not F. Well, this is important to the understanding of how chords are built.
Chords derive from a scale. For example C major derives from C major scale. We form the chords by playing the first, third and fifth note of the scale. In C major scale for example we press on C we skip the D press the E etc....
So we always measure chords in intervals of thirds. (C-E-G) (D-F#-A) (E-G#-B). In C# major for example the root note is C#, therefore its third note must be E# and not F. The distance between C# and F is of a four notes (C D E F) instead of three (C D E). That's how we know if a certain interval is diminished or augmented.
Return from Piano Chord Chart to Piano Chords.