Fingering- Moonlight Sonata
by Justin
(New York City)
I've been really into the piano lately, and I've been more interested in Beethoven's works, mostly Moonlight Sonata movement one. About thirty seconds in you're supposed to play the right triplet along with the middle key (don't ask me I am TERRIBLE at the names of notes etc.). Since I'm not really good at fingering, could you give me some advice or at least a picture of what your right hand should look like? Thanks!
Click here to read or post comments
Return to Piano FAQs Question or Answer.
Fingering Placements on the staff?
by Terrance
(Murrieta, CA. United States)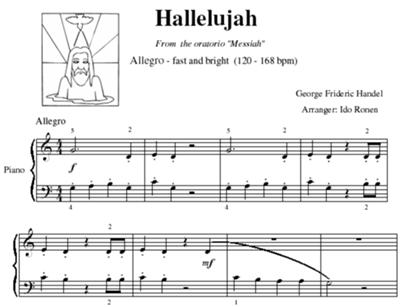 I will be studying sheet music more in depth once I'm done with these beginner lessons(today most likely).

But in the meantime, can you help me with understanding your number placements in the examples above for the Bass Clef - http://www.piano-play-it.com/music-tempo.html
For example: "Halleuyah"(Praise Jehovah), you place a number 2 at the beginning of the Bass clef for the 1st note. Why is that? If I was to place my 1st finger(left hand) starting on C - then (2) would be F.And if I placed my 1st finger(left hand) starting on F - then 2(2nd finger) would be B.
Please do explain?
Click here to read or post comments
Return to Piano FAQs Question or Answer.
About Piano Fingerings
by Jen
I'm really unsure about this.

When playing pieces, how do I know what it the most proper, best, or just correct way to finger notes?

In other words, how do I know what fingers to use for the notes?
Click here to read or post comments
Return to Piano FAQs Question or Answer.
Left Hand Finger Placements
by TRYDER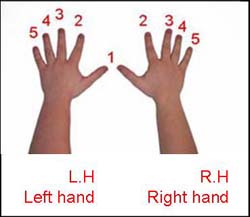 Hello David!

I know that others including myself, would love you to upload some piano charts that display the left-hand finger placements.

Although I am familiar with the left hand placements somewhat and can probably figure out the ones I don't know, I would really like to be sure that I have the correct placements.

Can you maybe imitate the same exact charts you already have, but this time with the left-hand placements?

Thank-You! And I still think your the best.
Click here to read or post comments
Return to Piano FAQs Question or Answer.
Questions about fingerings and scales
by Imelda
(Ipoh, Malaysia)
Q1: Is the fingering for minor and major scales the same? even for one and 2 octave. You only show the major scale fingering
Q2: Is the ledger line above bass clef midddle C same as D, E, F,G on the treble staff. I am confused. Is the ledger line end at G

I do enjoy copying the sheets to learn the notes and I find it effective and faster to know the notes
Thanks
Imelda

Return to Piano FAQs Question or Answer.
Learn from our Courses
"Your entire site is simply fantastic. I really loved it. Now I am learning the basics of piano by myself, with your really great help. Thank you very much!"
Jaime C. from Brazil
---
Play ALL your favourite Pop, Rock songs (by artists like Adele, The Beatles, Bruno Mars, Nina Simone etc...) Combine the right hand with the left hand and learn to know which rhythm to play!
The Ultimate Piano by Chords Learning Kit
Check It Out Now!
---
"I only started to play about six weeks ago but the last hour of watching your videos about chord progressions has been something of a revelation. You're brilliant!!!!"
Stephen Roberts from U.S.A
---
"I'm a beginning keyboard player and your video's are an excellent guide. You're absolute not in a hurry, and take time to explain. I'm sure I'll follow all your lessons to get the hang of playing the piano/keyboard!"
Wouter E. from the Netherlands
---
"Thanks for all your work ( tuto and others ). You're doing a really great job, You're the best internet teacher I know."
Anthony Hassen Cohen from France
---
"I really appreciate what you do for piano lovers and I'll let everyone interested I know to come visit your website and see how magnificent it is organized and how much you are really helpful to us beginners."
Mohamed B. from Egypt
---
"Thank you so much for all these piano lessons! You really make it easier for some of us who always wanted to play piano and have no musical experience."
Luis S. from the U.S.A
---
"Today I watched your video on "how to play piano by ear" and was totally amazed at how well you teach. I wish I lived close by, I would hire you for lessons."
Douglas Grendahl from U.S.A
---