Piano Man Sheet Music (Piano Tutorial)
Home » Piano Tutorials » Piano Man Sheet Music (Piano Tutorial)
This song by Billy Joel Piano Man is a really fantastic song. An all time favorite.
This song was one of the reasons I wanted to play the piano and so I promised myself I would make a clear piano tutorial with a sheet music that will help people who are eager to play this song to be able to achieve this.
This piano tutorial is a bit harder then the other piano tutorials and that's because it is ment for piano solo. You'll be playing the melody in the right hand with and extre voice and the bass in the left hand in the first part. Use the Piano Man Sheet to cover what you didn't understand through the piano tutorial.
In the second part the left hand will take the part of accomapnying and the right hand will play the melody. It's written clearly in the Sheet Music.
Click here if you haven't signed to Piano Playground, our free E-zine yet make sure you do that in order to get the username and password codes for the Piano Man Sheet Music I provide here under.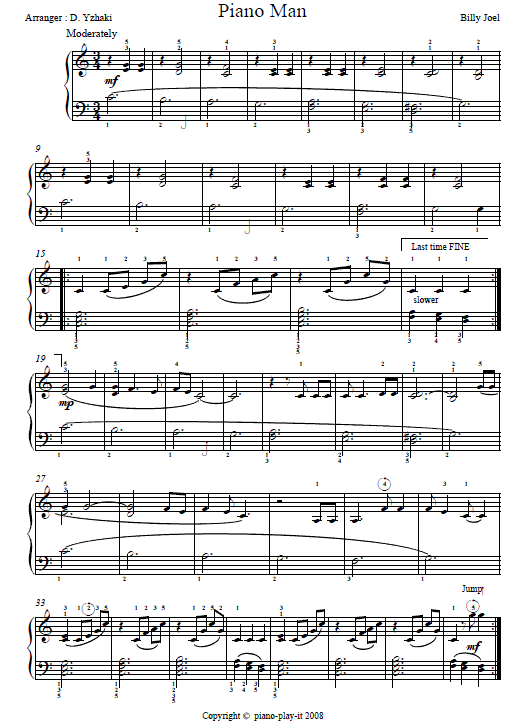 Click here to view the Free Piano Man Sheet Music.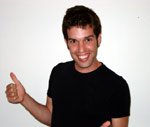 The biggest problem you face when trying to play a song smoothly is that you have to be able to remember all the chord shapes and switch between the different chords fast. The goal of learning to play the piano chords quickly could be achieved much faster with the help of the Rocket Piano Learning Kit that will help you to train your fingers to automatically remember all the chord shapes, in 1/3 the time!
You'll learn all about how your brain processes information, and how to maximise your piano practice time... (nine out of ten people are absolutely floored by this secret!). Click here to check out the Rocket Piano Learning Kit Now!
Learn from our Courses
"Your entire site is simply fantastic. I really loved it. Now I am learning the basics of piano by myself, with your really great help. Thank you very much!"
Jaime C. from Brazil
---
Play ALL your favourite Pop, Rock songs (by artists like Adele, The Beatles, Bruno Mars, Nina Simone etc...) Combine the right hand with the left hand and learn to know which rhythm to play!
The Ultimate Piano by Chords Learning Kit
Check It Out Now!
---
"I only started to play about six weeks ago but the last hour of watching your videos about chord progressions has been something of a revelation. You're brilliant!!!!"
Stephen Roberts from U.S.A
---
"I'm a beginning keyboard player and your video's are an excellent guide. You're absolute not in a hurry, and take time to explain. I'm sure I'll follow all your lessons to get the hang of playing the piano/keyboard!"
Wouter E. from the Netherlands
---
"Thanks for all your work ( tuto and others ). You're doing a really great job, You're the best internet teacher I know."
Anthony Hassen Cohen from France
---
"I really appreciate what you do for piano lovers and I'll let everyone interested I know to come visit your website and see how magnificent it is organized and how much you are really helpful to us beginners."
Mohamed B. from Egypt
---
"Thank you so much for all these piano lessons! You really make it easier for some of us who always wanted to play piano and have no musical experience."
Luis S. from the U.S.A
---
"Today I watched your video on "how to play piano by ear" and was totally amazed at how well you teach. I wish I lived close by, I would hire you for lessons."
Douglas Grendahl from U.S.A
---