Yamaha Motif
Home » Buy Piano » Yamaha Motif
If you have seen some of the piano tutorials on our site you've probably noticed that I use the Motif XS-8. In this page I'm going to tell you why I chose to have this extraordinary keyboard and what is its great advantage.
Well let me tell you that. Basically, The Motif is an all-in-one keyboard. I can do EVERYTHING with this instrument, and I'm talking about performing, arranging, composing etc.

Yamaha Motif
Performing - As a piano player and keyboardist I often perform with a band, a duo with a singer and sometimes Iplay and sing or perform electric music in a one-man-show. I can do all of that thanks to my baby :)
The Yamaha Motif has a huge bank of sounds, accompaniment styles, cool grooves and many more features. The sound of the piano is authentic, warm and beautiful. When you talk about this terrific instrument... well, it feels like the sky is the limit with this instrument.
However, it has one main disadvantage: It is heavy. and when I say heavy I mean REALLY heavy. My Motif XS-8 weights 28.6kg (63.0 lbs.) so it is quite difficult to carry it for gigs. I take it out only when I have to (Meaning when I get paid enough or I play with a respected artists that demands this sort of instrument). Most times I just need the sound of a piano, so I solved the weight problem by buying a portable digital piano - the Yamaha P-85. It has a beautiful sound of a piano and it weighs about only 11 kilos.
Arranger Workstation - I use the Yamaha Motif as my workstation for recording, arranging and composing music. You can create new sounds and accompaniment styles with this keyboard. The built in sounds are so authentic that you can hear the nuances of the sounds of the different instruments. I have composed many playbacks and arrangements that sound like live music. with this beast.
The Yamaha Motif series
There are many different models of Motif keyboards. Let try to make things clearer for you:
The Yamaha Company has begun producing the Motif series in 2001. It includes the following models:
The classic Motif which was introduced in 2001, Motif ES introduced 2 years later, Motif XS (2007) and Motif XF (2010). Here is the XS series for example:

Yamaha Motif XS-6 (5 octaves)

Yamaha Motif XS-7 74 keys (6 octaves)
In each of these series there is an added number for the model - 6, 7 or 8. This number indicates the number of the keys in the keyboard.

Motif XS-8 88 keys (seven octaves).
Motif 8 also comes with the Graded Hammer Action, so it is like having a digital piano with unlimited music possibilities. The disadvantage of the special hammer action inside the Motif 8 is that it makes this model heavy and inconvenient to carry for performing. (The 6, and 7 series are lighter because they are smaller and don't have the graded hammer action)
The Yamaha Motif keyboards, as other professional Yamaha keyboards, come with a huge bank of sounds (the newer the model, the richer the sound bank), as well as accompaniment styles, 16 tracks for recording on-board, polyphonic 128 keys etc.
Now, let's see what the special features in the Yamaha Motif are:
Creating sounds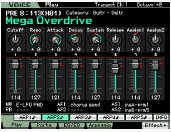 In regular keyboards you get built in sounds. Usually you can just change the volume and add effects (this is quiet sufficient for the average player). However, in the Yamaha Motif a single voice can have up to 8 separate elements of sound, and you have full control of the elements. Cool ha? How is this done? When you hear a trumpet, for example, you actually hear a process; the creation and the disappearing of the sound, vibrato and many more components of which you are unaware. The special equalizer of the Yamaha Motif, which contains 8 consoles, allows increasing or decreasing each of the components of an individual sound. By having that you can create an infinite number of different sounds for each of the instruments. Sometimes I find myself playing with the equalizers for hours just to find the right sound for my arrangement. Of course, I can save the sound on-board and use it later on; otherwise I would have to go through the whole process all over again.
Expanded Articulation
Expanded Articulation (XA) tone generation system - One of the major difficulties of keyboard manufacturers is to make the sounds realistic because there are so many different nuances in acoustic instruments. Legato, staccato and other articulations can be performed with the XA. This allows you to play all genres of music - you can imitate the sound of a big band with all its wide articulation range, you can play an authentic pizzicato of bow instruments or a percussion ensemble within just one instrument. That's fantastic!
Mega Voices
I'll give you an example which will show this special technology. When a guitarist plays you can hear "noises" the noise of the pick when it hits the string, the noise of "dead notes". Other instruments also contain various types of noises. Traditional sampling misses these "noises", and that's were the Mega Voices technology enters. It makes the music human.
Arpeggiator
You have no idea how fantastic this feature is. I'm addicted to it. In the Motif you get both quantity (in the Motif XF you get about 8,000 types of arpeggios) and quality. Arpeggio patterns have existed in synthesizers for many years; earlier there were only electric sounds for the arpeggiator, but now you get also acoustic sounds which can help you create and perform in many styles of music. So instead of working for hours for getting a certain groove you simply click on a key and you get the whole things instantly (and it sounds perfect).
Display screen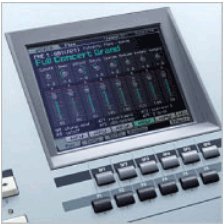 There are so many features in the Yamaha Motif that you can sometimes get lost. The display screen is big and clear so you always know your current status. This issue is quite important when you play live music because if you are on stage - you can hardly see anything!
Buying a Yamaha motif
There are many more features within the Yamaha Motif keyboard, but I have decided to focus on the main ones. Newer models have more sounds in better quality, more accompaniment styles, more arpeggios, bigger capacity of memory, and many other features. Of course, all of these innovations cost money.
Here are some prices that I have found on the internet
Motif XS-6:$2,100 , Yamaha Motif XS-7: $2,700, Motif XS-8: $3,000, Motif XF-6: $2,400 , Yamaha Motif XF-7: $3,100, Motif XF-8: $3,500
I bought my Motif XS-8 in a local store at a special price just a little more expensive than the price above. However, prices in music stores are usually more expensive than web stores (because they need showrooms and employees). I recommend you to go to a music store in order to try the instrument, and when you find the right one for you, check prices on the web. If the store is big and reliable, giving you guarantee for their products, could save you more than 20%.
To summarize,
I strongly recommend the Motif. I use it frequently when performing, composing, arranging and of course when making piano tutorials on our site - www.piano-play-it.com. However, if you are a beginner, I advise you to buy a less advanced instrument because it is better to focus on acquiring basic skills first. (Click here to learn more about basic Yamaha keyboards).
Return from Yamaha Motif to Buy a Piano