Blank Piano Sheet Music
Home » Free Piano Sheet Music » Blank Piano Sheet Music
Here's a blank sheet music which you can print easily for piano.
Click here if you haven't signed to Piano Playground, our free E-zine yet make sure you do that in order to get the username and password codes for the blank piano sheet music I provide here under.

Blank Piano Sheet with 6 staffs for Elementry School
Blank Piano Sheet with 8 staffs for Lead Sheet
Blank Piano Sheet with 10 staffs for Sketches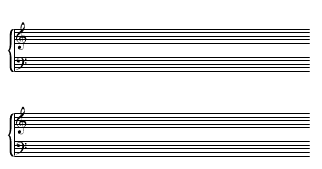 Accept from providing you with this blank piano sheet music I thought it would be wise to remind you some important things which I think you should remember when writing music.
First of all draw the clefs on the left side of the staff.



Now that you set the clefs you should decided how many flats or sharps should be added on the right side of the clefs or in other words you should know which scale the piece your writing is based on. (Don't forget to distinguish between a major key and a minor key).


In the next page I explain how the circle of fifths works which will help you to understand what scale is being played (Coming soon).


Now you have to determine the meter of the piece. Most of the pieces would have a 4/4 meter but some like Waltz for example will have a 3/4 6/8 or other meters.


My next tip for you is to write the bars upfront in order to get the rhythm right.
In most cases there's symmetry in the form of a song.


The verse and the chorus tend to appear in an eighth bars structure or a sixteenth bar structure. However overlaps are possible though they're not very common.
If you're writing your first song or transcribing a piece this tip might be quite useful.
One way or another it's important to set the form of the song in your head in order to keep the music in the right proportions.


Now you're set...
Good luck with making and writing good music!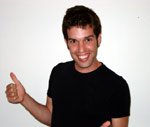 If you want to improve your ability to readin and write piano notes you should definately check out the Rocket Piano Ultimate Learning kit. Rocket Piano provides an amazingly handy and effecive piano course on various issues such as reading piano notes, playing piano by chords, piano technique and more.
You're going to love the way they work systemically with the help of their useful audio and video files that are short and to the point. By working with Rocket Piano you basically guarantee that you'll become pro at reading piano notes (And the big bonus is you'll learn to play piano by ear as well).
Check out the Ultimate Piano Learning Kit of Rocket Piano Now!