Born This Way - Lady Gaga Piano Tutorial
Home » Piano Tutorials » Born This Way Lady Gaga
This song is great for those who want to learn to play a few different grooves while keeping the same four chords.
Use the piano sheet under this piano tutorial to figure out what you might miss in the piano tutorial. It will help you out a lot.

Born This Way Piano Tutorial Lady Gaga by pianoplayit
Click here if you haven't signed to Piano Playground, our free E-zine. Make sure you do that in order to get the USERNAME and PASSWORD for the Born This Way Sheet Music I provide here under.
This piano sheet is arranged exactly the same way as I demonstrated at the beginning of the piece. Print it out.
I chose to stick to the original arrangement of this song and though it is only made out of a few chords I can't say this is a beginners piano tutorial. But try to play it and see how you handle it.
The song starts with an intro made of one chord only that is spread over both hands. You should try to play it freely and smoothly as if it was a harp.
The bass starts by playing eighth notes with the right notes in octaves. Later on start the pop groove which is easy because you play one chord per bar with the right hand while playing the beats with the left hand.
As we move to the chords the bass plays again eighth notes in octaves. while playing the beats with the right hand so make sure you're aware of the changes.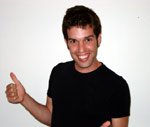 Had fun? Great! You know, there's a way to explore more on how to play piano by chords. It's great to imitate what you see on a video but you can learn how to form all possible amazing piano chords and learn to play an enormous amount of different rhythms while playing popular songs by artists like the Beatles, Adele, Bruno Mars, Leonard Cohen and more.
Check out our complete "Piano by chords" course where you'll go through a journey that combines both piano lessons and piano tutorials that will make you play the piano like a PRO, including courses for beginners, intermediate and advanced players!
Click here to check out the Piano by Chords Learning Kit Now!