The Christmas Sheet Music Piano Section - Level 3
Home » Free Piano Sheet Music » The Christmas Sheet Music Piano Section - Level 3
These Chritsmas piano sheet music are for more advanced students, where the songs are arranged beautifully, with a rich and warm sound and harmony, yet not too difficult to play. After all, our aim is to teach you how to play many Christmas songs.
If these sheets are too difficult try to play these songs at level 2 and try these ones once you improved your sight reading skill.

Christmas Sheet Music Piano Section - Level 3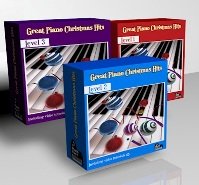 Would you like to have more of these piano sheets and videos at the same level?
Do you want to improve your piano skills and play these songs with an accompaniment?
Check out these 3 E-books with beautiful arrangements and clear video demonstrations of more then 20 songs at THREE LEVELS, based on A method that allows you to play your favourite Christmas Piano Songs and improve your coordination without having to read Piano Notes.
Now at a special Christmas DISCOUNT!
Click here to check out the Great Piano Christmas Hits Now!