The Ellen DeGeneres Show Song Contest ($300 Prize)
Home » Piano Tutorials » The Ellen Degeneres Show Song Contest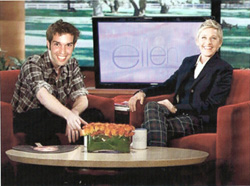 Hi Folks,

I'm David (Ellen's Biggest Fan ;-)
It all started when I made the Ellen DeGeneres Piano Tutorial and was amazed to see how it encouraged many of you to post video responses on YouTube of you playing the song in different arrangement and on many different instruments.
Playing music is always loads of fun and it feels great when you come up with a song or a piece of music that's fresh and original (The can be made by no one else but you.)
But how often do we let others hear what we came up with and share the joy?
It isn't easy to come up with a unique idea (And it might take hours to learn to practically play it) And there are so many of you creative and talented beings out there who've thought up (and continue to conjure up) some of the coolest and most original songs and arrangements.
So why let all that creative energy go to waste?!
That's why we opened here in Piano-Play-It the Ellen DeGeneres Show Song Contest!
By sending us your original version of the Ellen Degeneres Show Theme Song you'll be entered into our Ellen DeGeneres Song Contest. We award the winner with a $300 Prize! Second Prize winners will receive $100 and Third Prize winner will receive $50, but more importantly, the energy you invested into making the song will be shared with others and inspire to create and make more music!
Make sure you send us your video entry by May 3, 2010. We will then open the contest for the viewers to vote for their favorite video and on May 16 we will close the contest and the creative staff of Piano-Play-It will judge the videos and give their opinion on which videos should win.
The winning videos of the Ellen Degeneres Show Song Contest will be chosen 50 percent by the voters and 50 percent by the judges.
---
Costume Submission Guidelines
2010 ELLEN DEGENERES SHOW SONG CONTEST TERMS AND CONDITIONS
Only submissions with BOTH TEXT AND VIDEOS will be eligible to win
Upload your video to YouTube or any other video-sharing site and send us the link. Make sure the clip can be embedded so we can feature it on the site alongside the writeup.
Your video DON'T need to be perfectly played. Submissions are judged not only on "perfection", but on creativity, your write-ups, video composition, and whatever else may catch the judges' eye and viewes' eye.
Explain how you created the video, where the idea came from, or provide any other information you'd like to share. A detailed writeup will increase your chances of winning a prize!
Preparing Your Video
Making your Video : Try to make a video in its best. Choose a nice composition and make sure that the sound is clear and that there's enough light so we can see and hear you clearly.
Make sure we see you and your instrument clearly. It will make the video more appealing to others. By creating different shooting angles you're likely to earn some points!
Uploading your video Follow the guidelines in Youtube to make sure you upload your video in the recommended formats in order to keep the quality of your video.
IMPORTANT! - We suggest you save your writeup as a Word document so that if there's a technical glitch and it doesn't come through, we'll ask you to send your submission again and you won't have to rewrite it.
Finally, here are the lyrics fo the Ellen Degeneres Theme Song.
The lyrics to Ellen Degeneres Theme Song
Let's have a little fun - Today
Yeah Yeah
Let's Give a little love - Away
Yeah Yeah
Uhh Uhh
Uhh Uhh
We're looking forward to see your videos!
What Other Visitors Have Said
Click below to see contributions from other visitors to this page...

Return from the Ellen Degeneres Show Theme Song Piano Tutorial to Piano Tutorials.