The Inuyasha Piano Sheet Music and piano tutorial (Change the World)
Home » Piano Tutorials » Inuyasha Piano Sheet Music
In this page you'll find the free Inuyasha sheet music for piano arranged by Ido Ronen. It's a piano arrangement we especially made for beginners who want to learn to play the piano with some great piano pieces.
Click here if you haven't signed to Piano Playground, our free E-zine yet make sure you do that in order to get the username and password codes for the Inuyasha Piano Sheet Music I provide here under.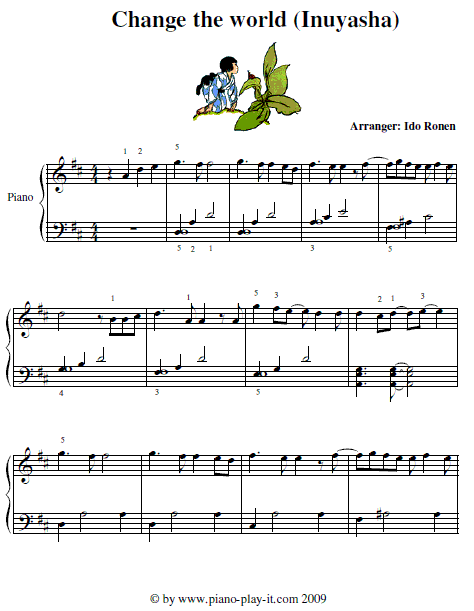 Click here to download the Inuyasha Piano Sheet Music, Change the World
I just added a video demonstration for this wonderful piece.
In this piece we play the melody with the right hand while keeping a nice smooth accompaniment with the left hand. The accompaniment is built from the bass note and broken chord that is played above it.
In order to combine the melody with the accompaniment don't try to play the whole piece at once. Instead, print the piano sheet and read it line by line while watching the piano tutorial. Then connect the first line with the one after until you can play the whole piece smoothly.
Try to practice line be line and make sure you play gently in while keeping the left hand softer then the right hand that plays the main melody.