Love of my Life Queen Piano Tutorial
Home » Piano Tutorials » Love of my Life Queen - piano tutorial
Love of my life is a beautiful pop ballad I used in order to explain how to form beautiful arpeggios on the piano.
The chords are quite easy accept you have to watch the 3/4 bar there in the middle and keep counting all the time.
In this piano tutorial I especially focused on keeping the correct piano fingerings to show you how you can pass smoothly from one chord to the other.
Click here if you haven't signed to Piano Playground, our free E-zine yet. Make sure you do that in order to get the user-name and password codes for the free piano tab I provide here under.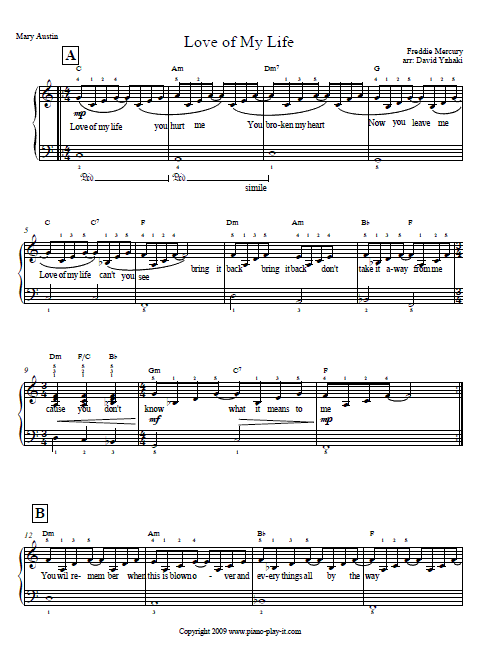 Here's a free piano sheet of the Love of My Life Queen piano tutorial.
Since my point at sharing this piano tutorial was to teach my you, my students, how to play arpeggios and to imitate the way a guitar plays ballads on piano, I chose and easy scale, the C major scale. This scale has no sharps and flats at so I bet this will make things easier for you.
What we're going to do with the right hand in this tutorial is take a chord, break to its three voices, play the upper voice and then play the chord from the lower voice to the upper voice.
Sometimes (see demonstration in the piano tutorial) we hold the upper voice taking it to the next eighth note which create a voice that is sustained from the previous chord to the next one. Since many of these notes are common to both chords the functionality of the note changes and creates a very nice rhythmic and harmonic element at once.
Make sure you understand how to form the four voices chords, such as the seventh chords. Often, what we do is omit the root from the right hand, leaving it at the left hand only and we play the seventh (Which is placed a whole tone under the root) instead.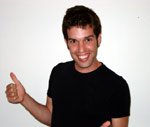 Had fun? Great! You know, there's a way to explore more on how to play piano by chords. It's great to imitate what you see on a video but you can learn how to form all possible amazing piano chords and learn to play an enormous amount of different rhythms while playing popular songs by artists like the Beatles, Adele, Bruno Mars, Leonard Cohen and more.
Check out our complete "Piano by chords" course where you'll go through a journey that combines both piano lessons and piano tutorials that will make you play the piano like a PRO, including courses for beginners, intermediate and advanced players!
Click here to check out the Piano by Chords Learning Kit Now!