The Sara Bareilles Gravity Piano Sheet and Piano Tutorial
Home » Piano Tutorials » The Sara Bareilles Gravity Piano Sheet and Piano Tutorial
This beautiful pop ballad by Sara Bareilles called gravity is very suitable for the piano since the arrangement of the original piece is basically arranged for piano and strings while only at the the rest of the band is added.
The chords in this song are quite jazzy and are played at the middle register of the piano. You'll often encounter the major seventh chord played in different manners followed by different bass notes.
Click here if you haven't signed to Piano Playground, our free E-zine. Make sure you do that in order to get the USERNAME and PASSWORD for the Sara Bareilles Gravity Piano Sheet Music I provide here under.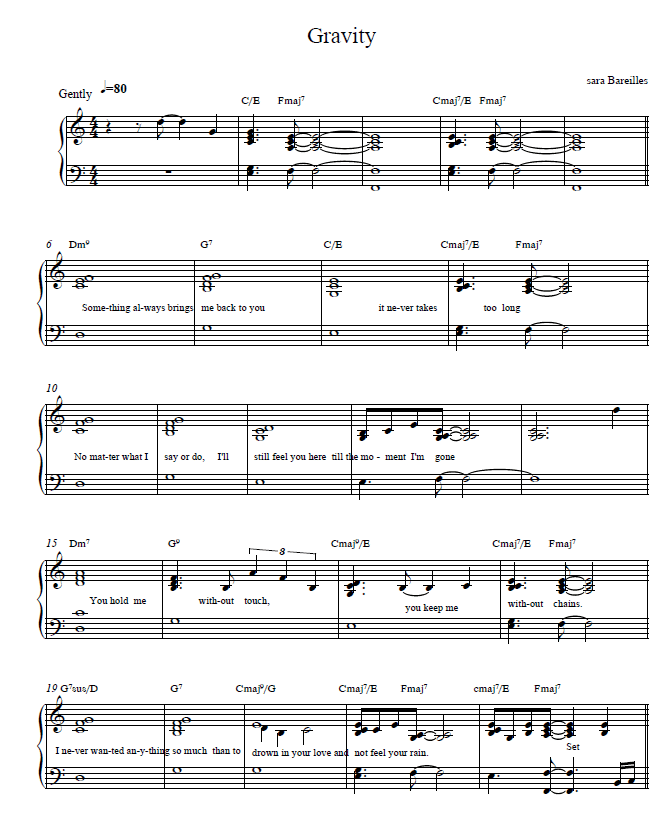 Click here to print out the Sara Bareilles Gravity Piano Sheet Music as arranged at the beginning of this piano tutorial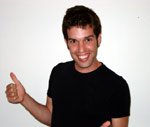 The biggest problem you face when trying to play a song smoothly is that you have to be able to remember all the chord shapes and switch between the different chords fast. The goal of learning to play the piano chords quickly could be achieved much faster with the help of the Rocket Piano Learning Kit that will help you to train your fingers to automatically remember all the chord shapes, in 1/3 the time!
You'll learn all about how your brain processes information, and how to maximise your piano practice time... (nine out of ten people are absolutely floored by this secret!). Click here to check out the Rocket Piano Learning Kit Now!
To create a major seventh chord you should basically take a triad chord with three voices for example C-E-G and add another root above (C-E-G-C). Then simply lower the higher root a semi tone down to B and play: C-E-G-B while adding the root note, C, in the left hand.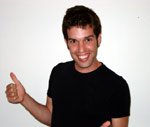 Had fun? Great! You know, there's a way to explore more on how to play piano by chords. It's great to imitate what you see on a video but you can learn how to form all possible amazing piano chords and learn to play an enormous amount of different rhythms while playing popular songs by artists like the Beatles, Adele, Bruno Mars, Leonard Cohen and more.
Check out our complete "Piano by chords" course where you'll go through a journey that combines both piano lessons and piano tutorials that will make you play the piano like a PRO, including courses for beginners, intermediate and advanced players!
Click here to check out the Piano by Chords Learning Kit Now!