Three Chord Songs
Home » Complete Chords Course » Three Chord Songs
Learning to play the piano by ear if you'll start with these songs. These are often the most famous songs in the pop world. The ones we sang in our youth or encountered on TV.
Since the "Three Chord Songs" video lesson is quite a long one I suggest you click on "play" and then "pause" until the whole file is downloaded. Then you won't experience pauses during the time the video is played.
In the previous lesson I have thought you about the three basic chords that have three main functions in chord progression process in music.
Before I give you the list of the three chord songs I'd like to add one detail on the dominant chord. In the previous lesson we said that the dominant chord (fifth degree) is called so because of its tendency to bring us back to the tonic (first degree).
After when we checked a few examples we realized that G major could lead sometimes to F too. So how can we be certain?
Well that's what G7 is for. In order to increase the need of the dominant chord to go to the tonic an extra note has been added. The F note. So if we created the G chord by playing G,B and D now we add the F note and this is what we get.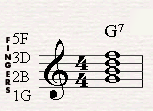 The F note is called the seventh note. You can find it if you count one tone under the root note. We're going to discuss this issue later in detail when we speak about the blues chords. However I'd like you to know that the seventh note (F) increases the attraction toward the Tonic.
Click here if you haven't signed to Piano Playground, our free E-zine yet. Make sure you do that in order to get the username and password codes for the free three chord songs piano tabs I provide here under.
Here's a free piano chord chart of all twelve dominant seven chords.
And here's a free piano chord chart of the I-V7-I that demonstrates the process between these two chords on the piano.
Bottom line, when you play a three chord song and a G chord is played before a C chord it's better play G7 to increase the tension. If not a G chord might be good enough. It depends on what you're singing basically. Listen to the sound and judge if your ear allows it or not.
I gave as an example the C major scale but you can play those three chord songs on all the other keys. Here's a list of the I, IV and V degree of all 12 different keys. You can use it to transpose the three chord songs here under to different keys.
1) C, F, G7 | 2) G, C, D7

3) D, G, A7 | 4) A, D, E7

5) E, A, B7 | 6) B, E, F#7

7) F#, B, C# | 8) Db, Gb, Ab7

9) Ab, Db, Eb7 | 10) Eb, Ab, Bb7

11)Bb, Eb, F7 | 12) F, Bb, C7


Hey, don't hesitate to try and fail sometimes. Try and press the different chords until you make it. It might take sometime but you're going to improve your musical ear enormously until playing three chord songs becomes piece of cake.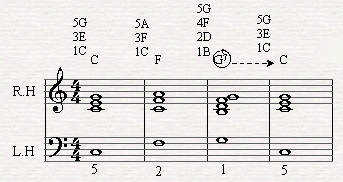 I've created this picture here of the I,IV and V chords in C major in the right inversions so that you won't have to bother to much about finding it. However if you want to play these three chord songs in an other scale you can print the file below.
And here it is. A free printable chart of the I-IV-V7 Chord progressions in all major scales. which will make it much easier for you to practice all these three chord songs.
Things to Remember When Figuring Out Three Chord Songs
Almost every song start with the Tonic(I) (The root chord) and the last chord of each and every song is the Tonic(I).
The chord before the last chord (tonic) is always the dominant seven (V7).
The duty of the subdominant(IV) is to suspend the tension before reaching the dominant (V) which has to solve to the tonic(I).
Here's a list of the Three Chord Songs
Click here if you haven't signed to Piano Playground, our free E-zine yet. Make sure you do that in order to get the username and password codes for the free piano tabs I provide here under.
Abide with Me
All Shook Up (Elvis Presley)
Aloha Oe
Amazing Grace
America
Around Her Hair (She Wore a Yellow Ribbon)
Frankie and Johnny

Battle Hymn of the Republic
Beautiful Brown Eyes
Beautiful Dreamer
Big Rock Candy Mountain
Blowing in the Wind
Blue Suede Shoes (Elvis Presley)
Brahm's Lullaby
Bye Bye Love (Everly Brothers)

Caisson's Song
Camptown Races
Canadian Errant Un
Catch a Falling Star
Cielito Linda
Cindy
Comin' Through the Rye
Crawdad Song

Desparado
Do! Do! Liegst Im Herzen
Don't It Make You Want to Go Home
Dinah (In the Kitchen)
Dry Bones
Everybody Loves a Lover

For He's A Jolly Good Fellow
For the Beauty of the Earth


Get on Board
Grandfather's Clock

Hand in my Pocket (Alanis Morisette)
Hand Me Down My Walking Cane
Happy Birthday to You
Happy Wanderer
Hello My Baby
Home on the Range
Home Sweet Home


If I Had a Hammer
If You're Happy and You Know It
I'm On My Way
In the Sweet Bye and Bye
Irene Goodnight
I've Got Sixpence
I Wish I Were Single Again

Jacob's Ladder
Jimmie Crack Corn
John Jacob Jingleheimer Schmidt
Johnny Be Good (Chuck Berry)
Juanita
Jump Down, Spin Around
Just a Closer Walk with Thee

La Bamba
Lemon Tree
Li'l Liza Jane
Listen to the Mocking Bird
Little Brown Church in the Vale
Little Brown Jug
Lonesome Valley
Long Tail Sally (Beatles

Mama Don't Allow
Mandy
Marianne (All Day)
Matilda
Me and Bobby McGee
Michael Rowed the Boat Ashore
Midnight Special

Moonlight Bay
M.T.A.
Muffin Man
Music in the Air
My Bonnie Lies Over the Ocean
My Heart Cries for You

Nearer My God to Thee
Nobody Knows the Trouble I've Seen

Oh! Dear! What Can the Matter Be
Oh! Mary Don't You Weep
Oh Susannah
Oh! Them Golden Slippers
Oh When The Saints Go Marching In

Old Black Joe
Old Chisholm Trail
Old Cotton Fields Back Home
Old Dan Tucker
Old Folks at Home
Old Gray Mare
Old Kentuky Home
Old MacDonald
Old Oaken Bucket
Old Paint
Old Rugged Cross
Old Time Religion
One More River
On Top of Old Smoky

Pack Up Your Sorrows
Put Your Arms Around Me Honey

Red River Valley
Reuben and Rachel
Ring, Ring, the Banjo
Rock of Ages

Saints Go Marching
Sentimental Journey
She'll be Comin' Round the Mountain
Sidewalks of New York
Sleep, Baby, Sleep
Snowbird (I, V, II)
So Long, It's Been Good to Know You
St. James Infirmary (Begin on I minor, Use IV minor and V7)
Supercalifragillisticexpialidocious
Swanee River

The Marines Hymn
There's a Hole in the Bucket
There Is a Tavern In the Town
This Land Is Your Land
This Train
Tie Me Kangaroo Down Sport
Tijuana Jail
Trail to Pretoria
Turkey in the Straw
Tutti Frutti (Little Richard)
Twinkle, Twinkle Little Star
Twist and Shout - Beatles


Vive L'Amour (Vive la compagnie)

Wabash Cannonball
Walk of Life (Dire Straits)
Waltzing Matilda
Wearin' O' the Green
We'll Sing In the Sunshine
When You and I Were Young Maggie
Wide River
Wild Thing
Willie and the Hand Jive (Johnny Otis)
Wings of a Dove (Ferlin Husky)
Workin' on the Railroad
Worried Man Blues

Yankee Doodle
Yellow Bird
You Are My Sunshine
Three Chord Songs for Christmas
Angels from the Realms of Glory
Angels We Have Heard on High
Away In A Manger

Deck the Halls

God Rest Ye Merry Gentlemen

Holly and the Ivy

I Saw Three Ships
It Came Upon the Midnight Clear
Jingle Bells

O Come All Ye Faithful

Silent Night
Silver Bells

The First Noel
Twelve Days of Christmas

Oh! Tannenbaum

We Wish You a Merry Christmas
What Child Is This
If you know other three chord songs that are not mention in this list please contact me and I'll add them immediately.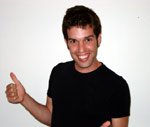 In this piano lesson I'm showing you in details how to play three chord songs by ear by what about 4 chord songs? What about songs that have more than that? Although it appears to be a big problem to be able to play song by ear it gets pretty easy to learn to do it with the Play Piano by Ear course by Hear-and-Play.
It saves you the money and time of having to go out and buy the sheet music to a song that you've already learned how to play by using the ability of your ear to recognize melodies, chords, and progressions. And what I like the most about it is that it allows you to improvise and add your own "flavor" to the song. Click here to check out the Play by Ear Piano Course by Hear and Play Now!