Yamaha Grand Piano
Home » Buy Piano » Yamaha Grand Piano
In 1887 Torakusu Yamaha (1851-1916) repaired his first reed organ. Fifteen years later, in 1902 his company produced their first grand piano. I doubt it if he imagined that his company would become the biggest manufacture of pianos, producing concert grand pianos which serve conservatories, concert halls, international piano competitions and many other professional and non-professional musicians all over the world.
Before talking about Yamaha Grand Pianos I'd like to explain in a nutshell some of the main advantages of grand pianos:
The sound - Apart from their royal look, grand pianos are bigger than upright pianos. This allows their strings to be longer. Longer strings can vibrate more accurately than the shorter and produce wider overtones; therefore they have a richer and fuller sound. In other words, size matters here...
The touch - Grand pianos come with a far more responsive key action due to the double escapement technique,. This allows the pianist to express and play nuances which can not be done in regular upright pianos.
Quality - Piano manufacturers use the best materials with careful manufacturing systems when building grand pianos since these pianos are professionally used in concerts, competitions, recording etc.
Special elements in Yamaha Grand Pianos
Duplex Scaling system - In regular pianos there is a portion of the string that is "unused". This portion is usually damped with a strip of cloth to prevent noise. The Duplex Scaling system allows resonance of this portion, therefore it vibrates immensely enriching the sound. All Yamaha Grand Pianos use Duplex Scaling except the GA1 and GB1 models.
Aluminum alloy action rails - Periodic weather changes cause fluctuations in wood rails. This may affect the touch response of the piano. Yamaha developed this special patent, allowing many years of stability of the action regulation.
Silent pianos: Grand Yamaha Pianos are also available in a silent version. It means that you get exactly the same acoustic piano with an option to silence the strings and connecting to headphones. This is very handy for practicing in late hours without disturbing the neighbors.
Prices
Grand pianos, of course, are more expensive than upright ones. Let's see what affects the price:
The size: As I said above, size matters. It has an immense influence on the price too. When the piano is larger it means that there is much more material involved in building it. For example, the GB1 which is a grand baby piano just 4'11'' long (149cm) costs $12,000-15,000. On the other hand, the Yamaha handcrafted CF6 Concert Grand is almost two times longer ( 9' or 275 cm) and costs $ 85,000. The size of the CF6 Concert Grand is twice the GB1 but the price is more than double
Why?
Well, there are other elements affecting the price:
Quality: The biggest pianos are the grand concert pianos which are used in professional concerts, competitions, recordings etc. These pianos must be superior because they represent the company; therefore a great effort is made when building them. Some of Yamaha grand pianos are hand crafted and built of the most expensive materials. That, of course costs a lot of money...
Refinishing: You can find two pianos of the same model, refinished differently, and difference of thousands of dollars in price. The refinishing style has an immense affect on the price. For example, Yamaha C7 in Black Polyester costs about $ 42,000 while the same piano in White Polyester costs around $ 50,000.
.
The various collections of Yamaha grand pianos
Yamaha has produced various collections of grand pianos; each of them is aimed to specific needs.
The classic collection includes smaller grand pianos ( baby grand pianos ) which suit small rooms.
The Conservatory Collection includes reliable grand pianos which can bear hours of playing.
The Conservatory Concert Collection includes durable pianos which are bigger with a richer and fuller sound, and therefore placed on stages.
The crowning glory of Yamaha grand pianos is the Premium Collection which is hand-crafted and built of the highest quality of materials.
Classic Collection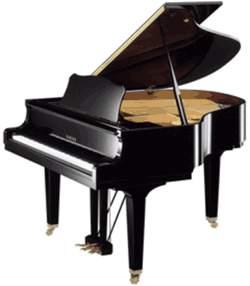 The GB1 is the smallest and most affordable Yamaha grand piano.
This series includes affordable grand pianos which can fit into small rooms.
With this series you get the advantages of a grand piano: The long strings in comparison to upright pianos, the special hammer action of grand pianos and the high quality which characterizes grand pianos.
Despite the high quality, these pianos are quite affordable, and when you put them in a room or a home salon you get a rich and a full sound. You don't need more than that in an average room.
The GB1 is the smallest Yamaha grand piano - 4'11'' (149 cm) length. It falls under the category of Petite Grand which are the smallest grand pianos.
Other pianos from the classic collection belong to the ( baby grand category. )
GB1K Grand Piano - Length: 5' 0" (151 cm). Price: $11,000-14,000.
The GC1 or GC1M - Length: 5'3" (161 cm) is built similar to the C1, having the duplex scaling and a rich and warm tonal character. It is a much affordable piano than the C1 because Yamaha use cost-saving materials for its production. Price: $18,000-21,000.
The GC2 Grand Piano - 5'8" is built similar to the C2. It falls under the category of Medium Grand pianos. Price: $22,000-26,000.
The prices of the classic collection are between $11,000- 25,000. This is quite affordable in comparison to other grand pianos manufactured by other companies. As written above, size matters - and you can see it clearly here: The smaller the piano is, the more affordable it is.
Conservatory Collection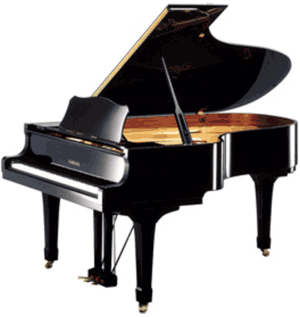 The Yamaha C5 is one of the most popular grand pianos placed on main stages of conservatories and other music schools.
This collection (also known as the C series) is specially produced for music schools and conservatories.
Why do music schools choose these pianos?
Piano schools need affordable pianos that will sound beautiful, have a professional responsive touch and be strong enough to bear long hours of playing and practicing every day.
Yamaha grand pianos are extraordinarily reliable and durable. The C series is known for its improvements in both resonance and expressive control.
Regarding the sound of these pianos, well, many musicians, including myself, prefer the sound of a Steinway or a Baldwin grand piano, but a music school has to take into consideration the cost as well.
Here are the models of the C series which come in different sizes:
YAMAHA C1 Grand Piano - Length: 5' 3" (161 cm). Price: $23,000-26,000.
YAMAHA C2 Grand Piano - Length: 5' 8" (173 cm). Price: $ 25,000-30000.
YAMAHA C4 Grand Piano - Length: 6' 1" (186 cm). Price: $35,000-40,000.
YAMAHA C5 Grand Piano - Length: 6' 7" (200 cm). Price: $33,000-42,000.
Conservatory Concert Collection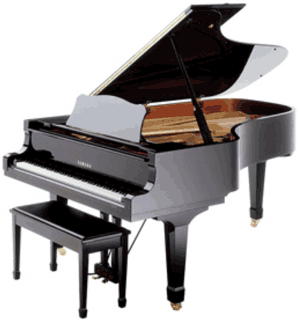 The Yamaha C7 Grand Piano is a very large piano(Length: 7' 6"), producing a rich and full sound
These pianos are from the same C series above. The main difference is their larger size making them suitable for public concerts. Not only they are larger, they are built of higher quality of materials and in a careful process of production.
YAMAHA C6 Grand Piano - Length: 6'11" (212 cm).Price: $42,000-50,000.
YAMAHA C7 Grand Piano - Length: 7' 6" (227 cm). Price: $48,000-55,000.
Premium Piano Collection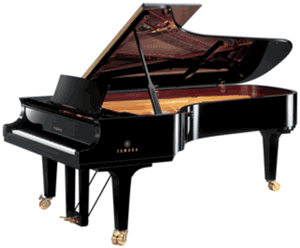 The Yamaha CFX grand piano is the largest, finest and most expensive Yamaha grand piano.
This is the flagship collection of Yamaha. These pianos are hand-made and built in a special factory of Yamaha grand pianos. Bass strings and hammers are hand-made. Only superior materials are used in this collection, and. every aspect of construction is thoroughly examined by specialists.
The Premium Piano Collection is the leading choice of the finest schools and conservatories due to its rich sound, touch, consistency and durability. It is also used in many concert halls all over the world.
Yamaha S4BB Grand - Length: 6' 3" (191 cm). Price: $ 60,000.
Yamaha S6BB Concert Grand - Length: 6' 11" (212 cm). Price: $ 65,000.
Yamaha CF4 Concert Grand - Length: 6' 3" (191 cm). Price: $ 75,000.
Yamaha CF6 Concert Grand - Length: 7' (212 cm). Price: $ 85,000.
Yamaha CFX - Length: 9' 0" (275 cm). Price: around $ 100,000.
Yamaha Baby Grands are affordable pianos which can fit in small rooms and still you'll have extra space. For example, you can have the GB1 baby grand which is just 150 cm long, for only $ 11,000.
Return from Yamaha Grand Piano to Buy a Piano