Video Game Sheet Music
Home » Free Piano Sheet Music » Video Game Sheet Music
DISCLAIMER: ALL TRADEMARKS, TRADENAMES, PRODUCT NAMES, BRANDS, AND COMPANY NAMES ARE PROPERTIES OF THEIR RESPECTIVE OWNERS
When I was a child I used to play "Super Mario" for long hours every-day. In a way, my passion for playing computer games has changed into playing the piano. I can sit hours by the piano and I'm never happy until I reach the next level.
Anyways, some of you have asked me to provide you with Video Game Sheet Music for beginners
I was happy to do it ofcourse for it brought me back to those happy days. So here they are...
This Video Game Sheet Music can be downloaded with last version of Adobe Reader. Click here to download it for free.
Click here if you haven't signed to Piano Playground, our free E-zine yet. Make sure you do that in order to get the username and password codes for the Video Game Sheet Music I provide here under.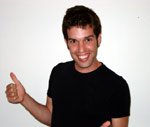 If you experience problems reading these Video Game Sheet Music you should definately check out the Rocket Piano Ultimate Learning kit. Rocket Piano provides an amazingly handy and effecive piano course on various issues such as reading piano notes, playing piano by chords, piano technique and more.
You're going to love the way they work systemically with the help of their useful audio and video files that are s hort and to the point. By working with Rocket Piano you basically guarantee that you'll become pro at reading piano notes (And the big bonus is you'll learn to play piano by ear as well).
Check out the Ultimate Piano Learning Kit of Rocket Piano Now!